Current Vacancies ~Team Members REQUIRED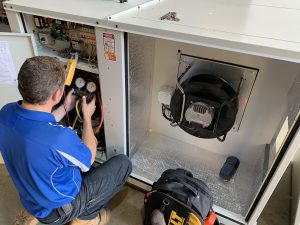 MCAS are looking for 2 x Qualified Service Technicians:
Do you want to be rewarded for your effort & loyalty?
Are you a problem solver?
Can you resolve issues on the go?
Is this you?
MCAS is a respected growing privately owned Perth company that requires the services of a technician that wishes to join our team.
We are seeking a highly enthusiastic and reliable individual with good organizational skills and the ability to work unsupervised, think on the go and be part of a team. Can you work through problems methodically, resolve issues, and reach resolutions?
Your duties will involve:
Service, maintenance and repairs on a wide variety of Air conditioning systems
Liaise with clients, build customer rapport and confidence
Take on building portfolios and take ownership of your sites
Your Sites may include:
Office Buildings
Commercial Centres
Retail Centres
Educational facilities
Research Facilities
Government facilities
Central plant experience would be an advantage.
We offer flexibility and your knowledge will be rewarded by an attractive remuneration package including car or car allowance, phone fuel and uniforms.
Annual bonuses based on performance.
The applicant must have all relevant trade and industry licenses and certificates for the state of Western Australia
Each of our trained technicians are provided with a fully equipped service vehicles and mobile phones so we can respond at any time day or night.